Good hosting for your website is essential and its important to understand the role a good website hosting platform plays when setting up a website. It really is as simple as that. I am not going to go in-depth with technical jargon, but I do think that there are 3 important things you must look for in a good website hosting platform.
The 3 main things to look for are: Good performance, Good security and Good support. When these 3 things are present in a Hosting platform, your site is fast, secure, and maintained. And all of that leads to better conversions.
Good Performance
52% of online shoppers consider fast website speeds as paramount to their loyalty to a website. Website speed and performance are crucial when it comes to engagement and site performance. In fact, Google shows that the probability of a user abandoning a site increases 32% as the loading time of a page goes from 1 to 3 seconds. Not only that, but sites that load in 1 second(!) have a 7% bounce rate! So we can see that site speed is important and plays into how a website performs.
So we can see here that the longer your page loads, the more users you will lose. Now we do have to also remember that just because your site loads fast does not guarantee a sale/conversion. You also need to have good content as well as something people need. However, the point here is that if your sites loads slowly they will never get to see said content, because they will have already bounced.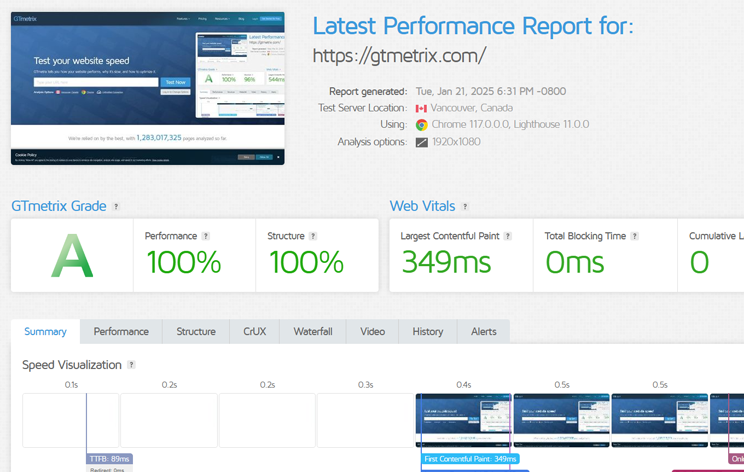 One of the ways to check your site is to use a website speed testing tool such as Pingdom, Google PageSpeed Insights, or GTMetrix to name a few. On top of that cleaning up your code, making sure your site is up to date, and well as optimizing your page for mobile is really important. One of the features these services help you understand is what needs to be optimized, and how you can do so.
So as discussed, website speed and performance are crucial factors that can determine the success or failure of a website. Slow loading speeds can lead to high bounce rates, decreased engagement, and ultimately lost revenue. It is therefore important to ensure that your website host uses latest technologies in their servers to ensure that your site is up and running optimally.
Good Security
In today's digital age, online security is a critical in running a website. Cyber threats such as hacking, malware, and DDOS attacks can compromise the privacy and security of a website's visitors, resulting in significant reputational damage, financial loss, and even legal consequences. I cannot stress enough how important good security is in a good website hosting platform. Good security provides strong security measures to protect your website and your visitors from these type of threats.
It has been estimated that over 12 million websites worldwide have been infected with malware at some point. And even though search engines do their best to detect and warn users, over 88% of malware infected are not blacklisted.
When looking for good hosting, it is important to look for certain features. Some of those features are: SSL certificate, a firewall, malware scanning, as well as auto updates to name a few. These are all preventative measures that can be the difference between your site being the target of a hacking attack that steals data, locks your website, and even having a virus.
When you have a website, especially one that deals with customer information, it is important that you do everything on your end to protect yourself and the user. Website security is an important feature of running a website, and excellent hosting is a core part of accomplishing this objective.  By investing in a good website hosting platform, owners can safeguard their sites from cyber dangers and protect not only their users, but their reputation.
Good Support
When you need to host a website, where do you turn when something (inevitably) goes wrong? It is important that the hosting platform have a good support system. When can you contact them? Does it cost extra (let's hope not)? How long do they take to respond?
These are all important questions to ask and find out when it comes to choosing a website hosting platform. If your website is hacked or you are having trouble figuring out what is going on, it is important that the hosting provider is there ready to help. Even if it seems like a simple question, you want your hosting provider to get back and help you in a timely manner. When your website is experiencing trouble you want to be able to get it under control and fixed quickly.
The times I have had to contact Siteground I have always had gotten great support. Whether the question was "dumb" or technical or just user error, Siteground was there to help me figure it out. Good support is crucial when choosing a website hosting platform, because they are your technical resource and can help you tremendously, regardless of your expertise.
Which Website Hosting Platform I Use
When it comes to hosting it is important that the web hosting platform you choose has good Performance, good Security, and good Support. With these 3 things it makes for a great experience.
When it comes to websites I design and develop using WordPress, I use Siteground. Siteground checks off all these boxes and more! Some other great web hosting service are Cloudways, WPMU DEV, WP Engine and Flywheel. These are the ones I recommend and would lean toward using.
On top of that, when it comes to designing, hosting and maintaining your website you don't have to go it alone! I design and maintain great-looking websites that turn visitors in clients. I do not leave you in the dust, I am with you every step of the way. From Design, to Hosting, to Security and Maintenance, I work with you to make the best website possible and creat a better experience for you and your clients. If you are ready to create a great-looking website, schedule a call with me today!
As always, thanks for reading, and don't forget to check out my other articles I have written.
When it comes to hosting your website, don't take any chances and skimp out on these features as they can literally make or break your site. While good hosting doesn't necessarily mean your website itself is good, when you have a great website you want it perform well and be secure, and that happens when you have a great hosting platform like Siteground or any of the other hosting sites I mentioned. If your site is designed well and optimized, having a great hosting provider makes all the difference in users being able to reach your site and the service you provide.